Keep Your Headphones in Headphone Cases
A wireless headphone is different than a traditional headphone. A wireless headphone package includes things like the primary unit (headphone), headphone case, charging cable, and user manual. The case of a wireless headphone protects it from possible damages.
Apart from that, this case also charges wireless headphones. But, would you keep your headphones in a fully charged case? It is a common question doing rounds on the internet. People want to know if they should keep their main unit in a fully charged case when they are not in use.
A wireless headphone has a design that allows it to be in its case when it is fully charged. Most wireless headphones come with lithium-ion batteries. These batteries, with their special design, stop charging automatically once the headphones are completely charged. Keeping wireless headphones in their case protects them from dust, moisture, and extreme temperatures.
In this article, we will tell you why keeping your headphones in the headphone case is essential. Without any debate, doing so will improve the lifespan of your wireless headphones. But apart from that, there are also many other reasons why keeping headphones in their case is essential.
Should I Keep My Wireless Headphones in the Headphone Case?
By keeping your headphones in their case, you will receive more benefits than harm. A wireless headphone will automatically stop charging after the battery is fully charged. Usually, these headphones come with the trickle feature.
This feature slows down the charging from 89 percent to 100 percent. It restricts the chances of overcharging the battery. Therefore, you don't need to be worried at all about overcharging wireless headphones. Once fully charged, the charging function will halt completely.
It is impossible to overcharge a lithium-ion battery. However, these batteries come with limited charge cycles until they begin to degrade. Once they do, you will have to replace the battery.
Typically, a lithium-ion battery comes with approximately 300 to 500 charge cycles. When the headphone charge goes below 20 percent, it means there is a loss of 1 charge cycle. It means that the battery will degrade too early if you often let it go below 20 percent.
Over time, the headphone battery will degrade naturally which shouldn't be an issue. You can improve the lifespan of your headphone battery by always keeping its charge above 20 percent. Therefore, it shows that leaving the wireless headphone in their case when you are not using them is actually a good thing for your headphones.
A Few Other Concerns
Some people believe that keeping the headphone case charging throughout the night is a bad thing. This perception is not true. The headphone charging case consists of lithium-ion batteries.
Just like the headphones, the case will automatically stop charging after reaching the full charge. It means that you should not get worried about charging your case overnight.
People also want to know if there is any other way to charge wireless headphones than the charging case. Most wireless headphones in the market require their original charging case to charge the headphones. You can charge a case through wireless chargers, but there is no way you can charge your headphones with other chargers.
Things That Can Damage a Wireless Headphone Battery
You should be very clear about the fact that all batteries will deteriorate with time. However, there are things that can make your wireless headphones deteriorate much faster. These include exposure to liquids (water), extreme temperatures, and chemicals. Let's take a quick look at these things one by one for a better understanding.
1. Extreme Temperatures
The battery of a wireless headphone will deteriorate too quickly under extreme temperatures. It includes both cold and hot temperatures. All wireless headphone manufacturers suggest storing headphones in temperature ranges of -4F to 113F (-20C to 45C). Therefore, you must not leave your headphones in extremely cold or hot temperatures.
2. Moisture
Most wireless headphones come with water- and sweat-resistant features, but not all. Even if your headphones are sweat-proof and waterproof, they can still get damaged. How? The water- or sweat-resistance works till a certain point. Once the exposure exceeds it, it will damage your headphones. Water-resistant wireless headphones come with IPX ratings. You should use your headphone according to that rating and manufacturer's guidelines.
3. Chemicals
Chemicals, like shampoos, soaps, and other bathing products may also damage the battery of your wireless headphones. Therefore, you must not expose your headphone case or the main unit to any of these chemicals.
How to Improve the Lifespan of Wireless Headphones?
There are multiple things that you can do to enhance the lifespan of your wireless headphones. First of all, efficient storage is important. As we already discussed, the battery life of wireless headphones degrades too quickly with exposure to high temperatures. You should always keep your headphones at a temperature that the manufacturer recommends.
Moreover, regular cleaning of your wireless headphones can also improve their lifespan. Earwax is the most common issue that happens because of not cleaning the product regularly. Apart from earwax, sweat, moisture, and dust can all minimize the lifespan of your wireless headphones. Clean your wireless headphone and the case on a daily basis.
The third thing is that you must clean your headphones after every workout when exercising. It is essential because sweat is harmful to wireless headphones, especially if they are not sweat- or water-resistance. By ensuring all these precautions, you will be able to enjoy your wireless headphones for a long time.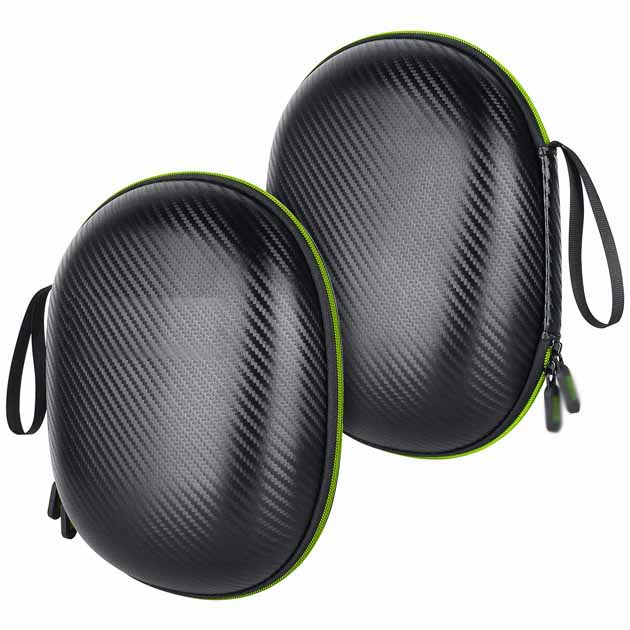 Final Verdict
There is nothing wrong with leaving wireless headphones in the headphone case. Keeping the headphones in the charging case even offer benefits by providing protection from dust, etc. Wireless headphones and their case consist of lithium-ion batteries that do not overcharge.
All you need is to use your wireless headphones according to the instructions written in the user manual. Keep them away from extreme temperatures, moisture, and liquid spills. It will improve the lifespan of your wireless headphones. If you want to improve the lifespan of your wireless headphone battery, do not let it go beyond 20 percent.
Contact us by clicking here for more tips and details on how to prolong the life of your wireless headphones.