Introduction
Are you tired of your eyewear glasses getting scratches or your eyewear glasses breaking ever so often? The only way to ensure the safety of your eyewear is to get your hands on the cases by a custom eva case manufacturer.
For people who have eyewear accessories like sunglasses or eyesight glasses, it is very important for them to protect these accessories. Around 60% of people in the world rely on eyesight glasses for clearer vision; you might be one of them.
If you have ever bought glasses, you would know that they come with a case of their own. However, you will also know how cheap and low-quality those cases are. You end up with a broken case in no time.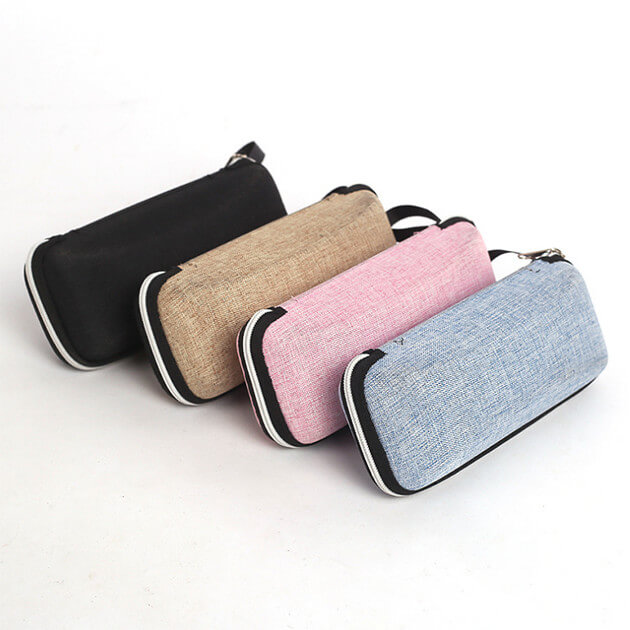 For eyewear eyeglasses, we need a very good quality, highly durable, and long-lasting. The custom EVA case manufacturer believes that EVA cases are the best-case choice for keeping eye wearers safe.
Three Main Types of Eyewear Case
First, let us look at the different types of eyewear cases that are available in the market.
Eyeglasses hard case
This type of case, as the name suggests is a hard case. The case has hinges, so the case opens and shuts like a clamp. The case typically has a single size. They are bigger so that almost any size of eyeglasses fits inside them.
If the case and hinges are of higher quality, then this type of case might last you a long time. There will be no problems with crushing or shaking. Your glasses stay protected, only if the case is of good quality. If this type of case is of a lower quality, then it might break easily.
Eyeglasses soft case
This type of case is made up of a soft, flexible fabric. The case usually comes in handy during relaxation times, as when you rest you take off your glasses and put them in this case.
People store their glasses in this case when they are not wearing them for a short time only. This case protects your glass lens from scratches. However, it will not protect your glasses as a hard case would.
If you keep them, in this case, all the time, the classes might crush or break. It is not recommended for keeping your glasses in this case for longer periods like while traveling.
The EVA sheets are cut and molded into the desired shape of the custom EVA case. EVA is an elastomeric polymer; its material is soft and flexible like rubber.
EVA stands for Ethylene-vinyl acetate, which is a copolymer that consists of ethylene and vinyl acetate. Also, EVA has the properties of low-temperature toughness, crack resistance, waterproof, and UV radiation resistance. EVA cases are both hard and soft; they are flexible.
Custom EVA cases are the best option for keeping your eyewear glasses. These EVA cases will keep your glasses safe and protected at all times. If you choose a custom EVA case manufacturer for your glasses case then you will get to customize your EVA case that comes with many advantages.
Many advantages come with the custom EVA cases for eye wearers. Below we have some of the benefits that custom EVA cases provide.
Highly protective
Waterproof
Shockproof
Chemical resistant
Heat resistant
The EVA case is waterproof as well as shockproof. In case of experiences of bumping, no damage is experienced by the eyeglasses. This is due to the material. EVA absorbs all the shocks and protects the belongings inside it. Moreover, EVA is also heat-resistant and chemical-resistant. You can store your EVA case anywhere and the eye wearer inside it will not break, crushed, or wet; it will be safe.
Very affordable
EVA or Ethylene-vinyl acetate is a material that you can easily cut and mold into any shape you like. Since EVA gets molded very easily compared to plastic, aluminum, or any other material, it is very affordable. Hence, EVA cases have a low cost of manufacturing.
Multiple options for surface material (highly customizable)
The custom EVA cases are very customizable. There are many options for the surface material of your EVA case like, polyester, nylon, matte PU Leather, textured PU, and many others.
This means that you get to choose the outer material for your eye wearer EVA case. Not only that, but you can also choose the size and shape/design of your eye wearer case. You have many options and control to have what you want with custom cases.
Perfect for traveling or harsh environment protection
The EVA case is a great option for you if you travel a lot. People who travel a lot require high-quality eyeglasses case their eyeglasses, as their safety is much crucial.
Compared to other material cases, the custom EVA cases are much more durable and protective. These cases are long-lasting even after multiple trips a year. Furthermore, they are very lightweight, easy to carry, and a convenient option for people who travel a lot.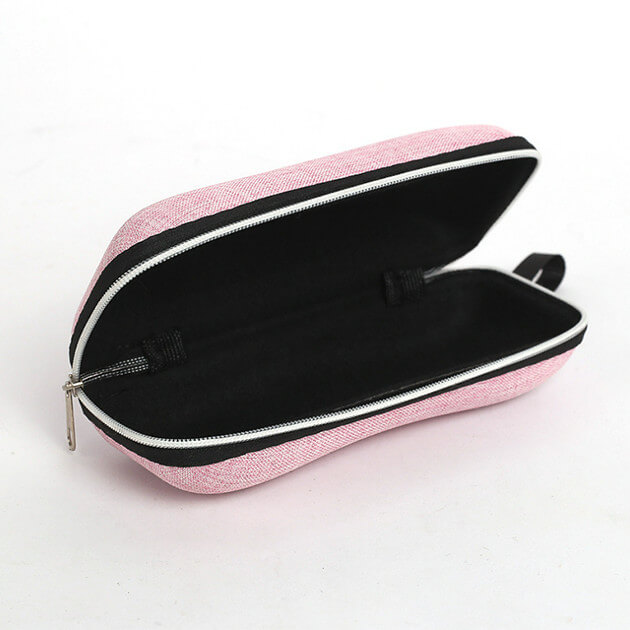 Environmentally friendly
We all know that harming the environment is the last thing that we should be doing right now. Using low-quality material things, which last for shorter periods and require you, to replace them every so often are very bad for the environment.
Because, although they are cheaper mostly, they do not last long, and replacing them means creating more garbage. Therefore, instead of using things made up of cheap materials use higher quality, durable, and long-lasting material things.
All of these characteristics along with being affordable and highly protective are in the custom EVA cases. Hence why the custom EVA case manufacturer recommends them.