In today's fashion industry, high-quality bags or cases play a significant role. They serve not only as a means to carry our essentials but also as a fashion statement, reflecting our style and personality. In this blog post, we will explore the top 5 bag manufacturers worldwide, delving into their rich history, exquisite craftsmanship, and signature designs. Get ready to embark on a journey that celebrates the artistry behind the creation of these remarkable accessories.

Year of Foundation: 
Location:
Main Products:
Established in 2006, Dongguan Baiyang Industrial Co , Ltd. has 15 years of experience in manufacturing bags and outdoor products. They offer various types bags and cases for the business, including EVA case and neoprene case in different use. With the strict quality control and considerable after-sales service, they has become a favorite in both overseas market and commercial settings such as consumer electronics, medical supply, outdoor, audio and more.
As a custom bags and cases manufacturer, BaiYang offer custom service to fit their customers' need, with the different colors and interior material options. Besides, they provide sample production and will re-make samples until customers satisfy. the From establish up to now, they devote themselves to continuously high quality products to make, which helps them gained lots of customers. 

source: JUTEXPO
Year of Foundation: 
Location:
Main Products:
Jutexpo is a global leader in the production of custom eco-friendly bags. Founded in 2002, the company specializes in using jute and juco materials to create high-quality, reusable bags. Jutexpo combines a unique blend of creativity, technical knowledge, and industry expertise to deliver products that are both functional and fashionable.
The company caters to a wide range of sectors including retail, charities, promotional companies, schools, and more. With their strong focus on customer satisfaction, they offer bespoke design services allowing clients to customize their products. With a commitment to excellent customer service and product reliability, Jutexpo has garnered a wide array of clients globally, using their bags for promotional purposes, as a medium of brand representation, or as retail products.

source: Western Textile & Manufacturing
Year of Foundation: 
Location:
Main Products:
Western Textile & Manufacturing is an established company involved in the manufacturing and distribution of high-quality bags. With its operations set in the USA, the company boasts an extensive product line including various types of bags like canvas, nylon, vinyl, and specialty bags designed to cater to a wide spectrum of industry needs – from retail and promotional to industrial applications.
They are committed to excellence and unequivocally focuses on supplying robust, versatile, and custom-designed bags that meet and exceed customer expectations. Sustainability is also an integral part of their ethos, as they work diligently towards minimising environmental impacts by adopting efficient manufacturing practices and using eco-friendly materials. Their team of skilled professionals, backed by cutting-edge manufacturing facilities, enable Western Textile & Manufacturing to handle large orders without compromising quality.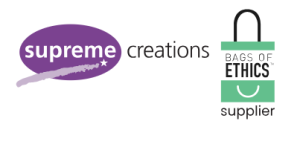 source: Supreme Creations
Year of Foundation: 
Location:
Main Products:
Based in London, UK, and founded in 1999, they are best known for producing a variety of reusable and customized bags made from ethically sourced fabrics. Their best known product is their line of custom logo canvas tote bags.
They have a broad spectrum of products ranging from tote bags to drawstring bags and pouches, all designed to fit their clients' unique requirements. Aditionally, they work closely with clients through every stage of production, providing both design and manufacturing services. Supreme Creations is highly committed to sustainability and ethical production practices. They use environmentally friendly materials, and also ensure fair wage and good working conditions for their factory workers in India. Their ethical and environmental commitments have made them a top choice for brands looking to promote themselves in a responsible, sustainable manner.

source: Custom Case Group
Year of Foundation: 
Location:
Main Products:
Custom Case Group (CCG) is a premier manufacturer of specialized custom cases and bags for a wide array of industries and purposes. With their broad experience and capabilities, they provide tailored solutions by designing and manufacturing unique, industry-specific and custom-built carrying and transport cases.
CCG is well-known for creating quality customized cases that feature the most advanced materials and technologies, offering complete solutions for individual professionals and large companies alike. With a keen understanding of their clients' needs and a strong commitment to excellent customer service, CCG continuously sets the bar high in the custom case industry.
To sum up, we have list 5 custom bag and case manufacturer who have excelled in producing goods in high quality that satisfy a variety of consumer needs. By investing in bag and case from the top manufacturers in the industry, you can ensure the safety and organization of your belongings. Don't settle for anything less than the best – choose a bag or case from one of these top manufacturers and experience the ultimate storage solution.